Near the camp you may have noticed a giant circular sheet of canvas, with one end tied with ropes to a large wicker basket with a stove contraption inside. From what you can surmise with your engineering expertise, you guess that it is a bag or balloon apparatus that could be lifted up into the air by heated air.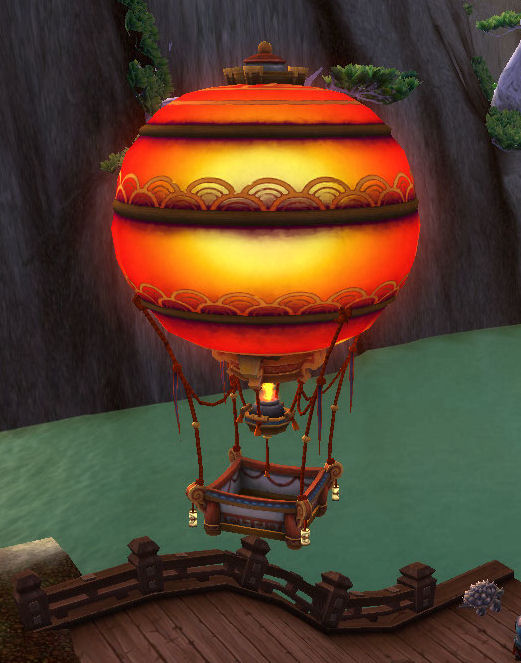 Once inflated, one side of the canvas reveals the golden Sword and Shield on brown insignia of The Braves, while the other shows what appears to be a wicker basket within a fiery comet that sears across the canvas. How striking!
Behold,
The Blazing Basket!
The newest addition to "The Bravest Fleet" (2+ Vessels = A Formation = A Fleet), courtesy of our friend Admiral Dar Dar and her namesake, Charlie Blazesong.
Lomonde has given it a once over, and it seems serviceable. The steering however mainly relies on wind direction and haphazard rope dragging by the pilot.
Might our engineering minds find a way to install a rudder or propeller mechanism for better use? Such a means of transportation would prove invaluable to our travels in Pandaria and beyond!



Posts

: 29


Join date

: 2014-01-19



Charlie better not forget to bring this bad-boy to Stormwind, or I'll have his head!
Charlie will definatly bring it. Sadly he cant move a vessel as big as the duckling through a portal though.



Posts

: 40


Join date

: 2014-01-16



You could, of course, sail the ship back to Stormwind instead of using a portal.

What if.. portalfailure and we crash the ship into Zangarmarsh!



Posts

: 40


Join date

: 2014-01-16




---
Permissions in this forum:
You
cannot
reply to topics in this forum