I've been exploring Draenor on my main for a while now, looking for locations to RP. I've found several spots I really like but one excels in my opinion. I found an empty Iron Juggernaut off the northern coast of Tanaan (the only Tanaan regions which are accessible and permitted to be explored are the coasts at the moment) which lies docked, has several cannons, no crew or npc's and could maybe suit the Braves. There are a few downsides though:
- The ship is 5 mins away from land.
- The docks itself (which we probably won't use anyways) have several level 100 Iron Horde orcs wandering about.
Here's a few pictures + the location (And yes that's my fancy main lock) :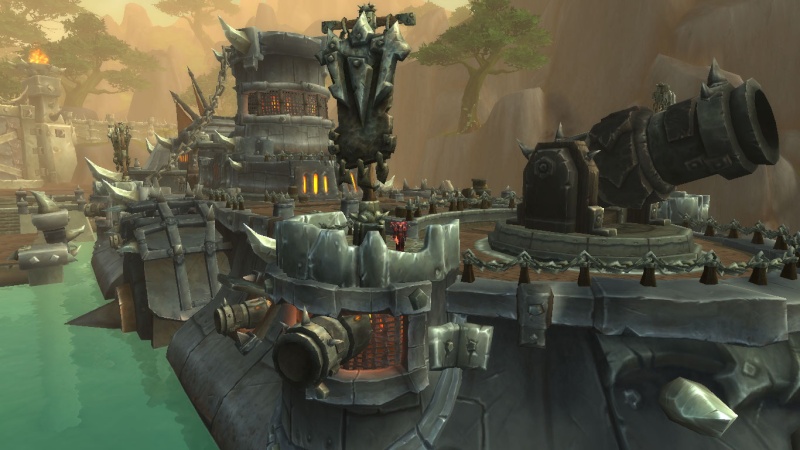 (I'd also post a shot from further away but it failed to upload, so I'll try to do that later.)
Now if any officer reads this and thinks this may be a nice boat for the Braves, I would like to ask if I could make an event to take over the ship (It'll be a boat-heist thingy, which my character or his actions already hinted at several times the past few weeks).
_________________



Posts

: 45


Join date

: 2014-08-27



Possession of a huge Iron Horde dreadnought is unfitting of a group of adventurers. The tiny boat they have now is much more like it.

Remember:
-Group of adventurers, not an organised army, no need to own a battleship
-There is only one non-hostile dock in the entire continent
-Where would you get the ship from anyway?

_________________
Moved to AD



Posts

: 93


Join date

: 2014-01-19


Age

: 23


Location

: England



I agree with Adry's points. It might not be a thing we'll own or use, as it's a bit too big to feasibly control for a traveling group of adventurers. It'd fit a more naval based guild more. Having said that, I do really dig these ships, so being the scene for an event or two sounds really cool. Considering their size, these things'd probably be run by over a hundred orcs, armed to the teeth. So it'd probably be best to require a few events as we come across it, plan some fat-fetched assault under the cover of dark, and then attempt to pull it off.
Admin




Posts

: 130


Join date

: 2014-02-14



Alright, thinking about it now I have to agree with you both.
Could I still try and do an event revolving around blowing it up (Harold tends to be quite good at these kinds of things) for a good pile of gold?
I've already worked on a small setup (in which there is more than enough room for participant input, heck, it may even fail) and I'd really love to try out DM'ing for a group bigger than 3 people

.
_________________



Posts

: 45


Join date

: 2014-08-27



Yes, you definitely can make such an event! See if you can set up some things to build up to it, like scouting it out- or happening upon the ship in fog, and having to get the heck out of dodge. To establish what you'd be up against as it were. With such a big enemy as it were, It'd be best if you led up to it. Having said that; feel free to post an event on the calendar!
Admin




Posts

: 130


Join date

: 2014-02-14




---
Permissions in this forum:
You
cannot
reply to topics in this forum